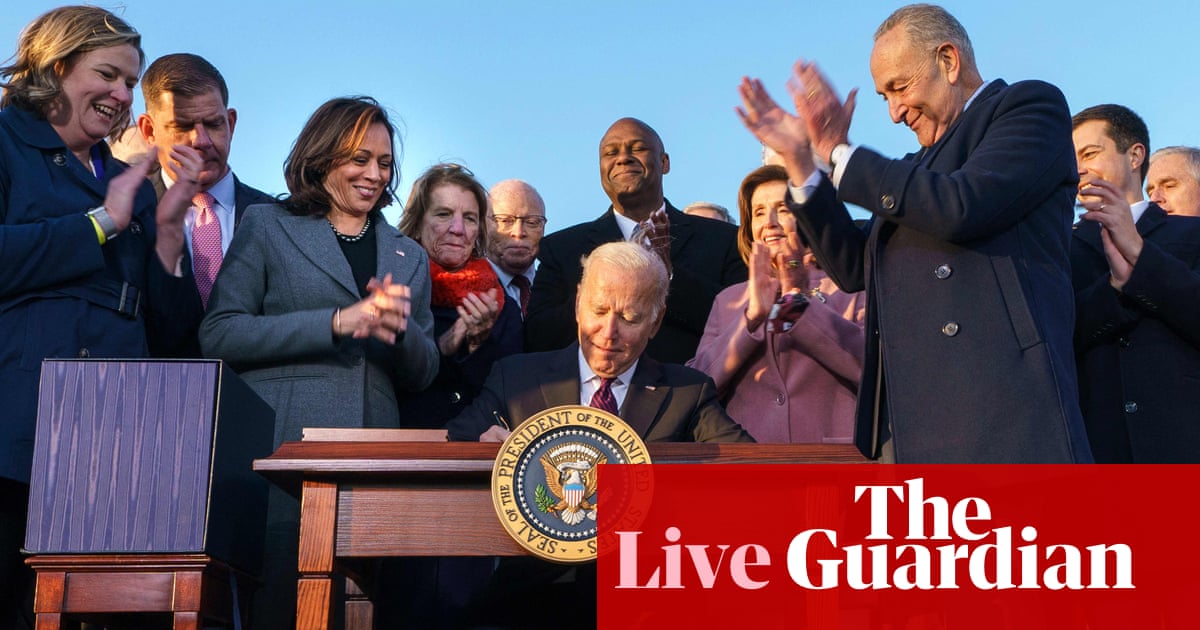 Senior Democrats are thinking about censuring Arizona's Republican representative Paul Gosar for posting a video of an animation altered to depict him killing Rep. Alexandria Ocasio-Cortez and using a sword against Joe Biden, sources told Politico.
The decision is not yet final though Politico sources say Democrats feel strongly there should be consequences. Another option they're considering, those sources said, was to remove Gosar from his committees.
While Nancy Pelosi said in a statement that it was up to Republican leadership to monitor "the questionable behavior of their members," Ocasio-Cortez on Monday night said she expressed to Pelosi and the leadership that it's " very important for there to be a concrete response to the congressman's threats."
Politico is reporting Democrats plans to discuss this with caucus before making a final decision.
Defense secretary Lloyd J Austin III has asked for a briefing on what is reportedly one of the largest civilian casualties in the war against Islamic State fighters, the New York Times is reporting. The 2019 airstrike, which killed dozens of women and children, has never been publicly acknowledged by the military.
A New York Times investigation found the military sought to conceal the airstrike on Baghuz, Syria on 18 March 2019. A Pentagon spokesperson told the Times that while he was not going to re-litigate something that happened in 2019, the head of the military's Central Command, Gen Kenneth McKenzie Jr, plans to brief Austin "specifically on that particular airstrike".
More from the New York Times:
The Times investigation showed that the death toll from the strike was almost immediately apparent to military officials. A legal officer flagged the bombing as a possible war crime that required an investigation. But at nearly every step, the military made moves that concealed the catastrophic strike. The death toll was downplayed. Reports were delayed, sanitized and classified. U.S.-led coalition forces bulldozed the blast site. And top leaders were not notified.

An initial battle damage assessment quickly found that the number of dead was about 70.

The Times investigation found that the bombing by Air Force F-15 attack jets had been called in by a classified American Special Operations unit, Task Force 9, which was in charge of ground operations in Syria. The task force operated in such secrecy that at times it did not inform even its own military partners of its actions. In the case of the Baghuz bombing, the air command center at Al Udeid Air Base in Qatar had no idea the strike was coming, an officer who served at the command center said.

The Defense Department's independent inspector general began an inquiry, but the report containing its findings was stalled and stripped of any mention of the strike.
Senate banking chairman Sherrod Brown was told the White House expects to announce Biden's pick for Federal Reserve chair "imminently", Bloomberg is reporting.
"I hear it's imminent," Brown, an Ohio Democrat, told Bloomberg on Monday. "I'm not going to speculate who I think it might be now. I assume the decision's been made and they haven't announced it, but I don't even know that," he said.
From Bloomberg:
Biden's choice has been expected before Thanksgiving. Current Chair Jerome Powell's term ends in February, and Biden interviewed both he and Fed Governor Lael Brainard for the top job earlier this month. Powell was elevated to the chairmanship by Donald Trump. Brainard, a Democrat, has won backing from progressive elements for her stronger stance on financial regulation.
From what he's heard from different people at the White House, Brown said "I'm pretty sure it's Powell or Brainard."
Read more from Bloomberg here.
Trump is making the rounds, working to settle scores with Republicans who voted to impeach him.
The former president announced on Monday that he was endorsing John Gibbs, a former housing official in the Trump administration and an opponent running against Michigan Representative Peter Meijer in the upcoming primary. Meijer is one of 10 House Republicans who voted to impeach Trump for his role in the Capitol riots.
"Meyer [sic] has been a terrible representative of the Republican party and beyond," Trump's statement announcing his endorsement of Gibbs read.
Gibbs is not without his controversies, however. CNN previously reported that Gibbs circulated a conspiracy theory that claimed John Podesta, the presidential campaign chairman of Hillary Clinton's 2016 run for president, took part in a satanic ritual. He also called the Democrats the party of Islam and "gender-bending" and defended a Twitter user who was banned for making anti-semitic remarks.
The Wyoming Republican party voted to censure the state's sole US representative, Liz Cheney, for voting to impeach Donald Trump for his role in the 6 January insurrection.
The state's GOP central committee voted 31-29 to pass a resolution to stop recognizing Cheney as a member of their party. The resolution, however, does not strip Cheney of any tangible powers.
Cheney has repeatedly come under fire for her criticism of Trump, who she said "incited the mob" and "lit the flame" of the Capitol riots.
"She is bound by her oath to the Constitution. Sadly a portion of the Wyoming GOP leadership has abandoned that fundamental principle and instead allowed themselves to be held hostage to the lies of a dangerous and irrational man," Cheney spokesman Jeremy Adler told the Associated Press.
This symbolic vote could hurt Cheney's road to reelection in the 2022 primary. Cheney is facing at least four Republican opponents including a Trump-endorsed candidate, attorney Harriet Hageman.
"It's fitting because Liz Cheney stopped recognizing what Wyomingites care about a long time ago. When she launched her war against President Trump, she completely broke with where we are as a state," Hageman said in a statement.
And more from the US state department: The agency called Russia's recent anti-satellite missile test "reckless" and "dangerous".
On Monday, the US space command confirmed that a "debris-generating event" had taken place. A US official said a ground-based missile was launched at a target in orbit, according to CNN, which would be one of just a handful of successful anti-satellite tests conducted by US, China, Russia and India.
However, the state department spokesperson Ken Price said the US warned Russian officials against conducting such a test because of the potential dangers on multiple occasions.
"The test has so far generated over 1,500 pieces of trackable orbital debris and hundreds of thousands of pieces of smaller orbital, orbital debris that now threaten the interests of all nations," Price said during a state department press briefing.
Britain's defence minister Ben Wallace also expressed his concern and said Russia showed "a complete disregard for the security, safety and sustainability of space."
To focus on resettling Afghan evacuees, the US state department said it will limit admissions of refugees from other parts of the world who do not meet specific qualifications.
"This temporary prioritization of new bookings will allow resettlement agencies and community partners to provide necessary services to the Afghans that will be leaving US safe havens in the coming weeks and months as well as to receive refugees already booked for travel in November and December," the state department said in a statement according to CBS.
Afghans will be prioritized for resettlement through 11 January with the exception of some refugees including those who need to reunite with family in the US, who have urgent cases, or those whose medical or security screenings will expire soon. They will continue to be admitted.
CBS sources say this move was requested by local non-profit refugee settlement agencies. The groups have struggled to resettle the more than 70,000 Afghan refugees who escaped Afghanistan after the Taliban reconquered the country. Latest government numbers show that about 46,000 Afghans are currently living at eight military bases that are serving as temporary housing for these evacuees across the US.
Johana Bhuiyan here reporting for duty from foggy San Francisco.
In non-infrastructure news, a judge in the Kyle Rittenhouse trial threw out a weapons charge before closing arguments even began. Rittenhouse shot and killed two men and wounded another during anti-racism protests last year in Kenosha, Wisconsin.
Here's the Guardian's Maya Yang with more on the decision:
Discussing instructions that would be provided to the jury, judge Bruce Schroeder dismissed a count of possession of a dangerous weapon by a person under 18, saying that he had a "big problem" with the gun statute as written.

Rittenhouse was 17 when on 25 August 2020 he traveled from his home in Antioch, Illinois, across the state border to Kenosha, a city in the throes of protests following a white police officer's shooting of Jacob Blake, a Black man, after a call to a domestic disturbance.

Bystander video captured the critical minutes when Rittenhouse, armed with a Smith & Wesson AR-style semiautomatic rifle, shot and killed Joseph Rosenbaum, 36, and Anthony Huber, 26, and wounded Gaige Grosskreutz, 28.

Rittenhouse is white, as are the three men he shot. But the case has raised questions about racial justice, policing, firearms and white privilege that have polarized people far outside Kenosha.

Rittenhouse faced charges ranging from intentional homicide – punishable by life in prison – to the underage weapons charge, which could have sent him to jail.

But in court on Monday, Schroeder said: "If the barrel length is less than 16in or an overall length less than 27in, then I'll deny either motion. If it does not need those specifications then this was defense. Motion will be granted."

According to Schroeder, the shorter barrel size of the rifle Rittenhouse carried meant he did not violate the law, as it does not fall into either category. Schroeder also said the relevant Wisconsin law was vaguely written.

Rittenhouse was left facing five counts, including two of homicide, one of attempted homicide and two of recklessly endangering safety, for firing his weapon near others.

He has argued self-defense, leaving prosecutors with the burden of proving that his fear for his safety and his use of deadly force were unreasonable. Some legal experts said the prosecution struggled to do so.
Read more:
Biden signed the $1.2tn infrastructure bill into law at a White House ceremony attended by Democrats and Republicans.
The CBO announced that it would finish scoring the Build Back Better Act by Friday, setting up a potential House vote on the second piece of Biden's legislative agenda this week. Pelosi said she expects the House to vote "this week" as members of her caucus previously agreed.
Steve Bannon "self-surrendered" to the FBI this morning after being charged with two counts of contempt of Congress. He was released without bail and will be arraigned in court later this week.
Democrat Beto O'Rourke announced that he is running for governor of Texas.
Democrat Patrick Leahy of Vermont, currently the longest serving senator, announced he will not run for re-election next year, setting up a potentially competitive race for his seat.
What's in the infrastructure bill?
The legislation includes billions in funding to"
upgrade and repair nation's aging highways, bridges and roads
improve public transit, making it greener and more accessible for people with disabilities
modernize the nation's electric grid, making it greener and more resilient
improve America's national rail system, with substantial investments in Amtrak, which suffers from a maintenance backlog, as well as upgrades to existing rail lines and funding for news ones.
fund broadband access and improve internet services for rural areas, low-income families and tribal communities.
fund climate resiliency that would help regions prone to extreme weather better prepare for future catastrophes.
Replace lead pipes and modernize water systems to eliminate contaminated drinking water that has harmed residents in communities across the country.
build electric vehicle charging stations, which the administration believes are critical to accelerate the adoption of electric vehicles as a climate mitigation strategy
"Folks, I've been looking forward to this day for a long time," Biden said, animatedly before finishing his remarks.
He moved to the table next to the rostrum and held up a pen, as Harris, his cabinet officials, and elected officials of both parties crowded behind him.
"Here we go," he said and signed his name, finally signing into law the $1.2tn infrastructure bill.
Joe Biden is taking a major victory lap before signing the infrastructure bill.
"My message to the American people is this:America's moving again and your life is going to change for the better," he said, speaking on a windy afternoon from the White House lawn.
The president was ebullient as he relished this moment, a campaign promise fulfilled in his view.
"I promised we couldn't just build back as it was before. We literally had to build back better," he said. He called the bill a "blue collar blueprint to rebuild America."
"It leaves no one behind," he said.
Thanking the elected officials in attendance, he singled out Republican senator Rob Portman, who helped negotiate the deal. "Senator Rob Portman is a hell of a good guy. I'm not hurting you, Rob, because I know you're not running."
He called calls senator Kyrsten Sinema the "most determined person I know." He also thanked Mitch McConnell, the Senate minority leader who voted for the bill but was not in attendance.
To organized labor, Biden said promised: "Jobs, jobs, jobs, jobs!"
He also thanked his wife and Harris' husband, the second gentleman Doug Emoff, who will also travel to promote the bill. "These guys travel all over the country together, I'm getting worried, you know," he joked. "Doug's one hell of a lawyer, besides."
Vice president Kamala Harris praised the president as a "believer and a builder" for envisioning the infrastructure bill – and the bipartisan team that shaped it. She also called on Congress to pass the Build Back Better Act, the domestic policy and climate change bill.
"This bill, as significant as it is, as historic as it is, is part 1 of 2," Harris said. "To lower costs and cut taxes for working families, to tackle the climate crisis at its core, the Congress must also pass the Build Back Better Act. The work of building a more perfect union did not end with the railroad or the interstate and it will not end now."
Harris will travel the country promoting the legislation, the White House said today. Her first stop will be in Ohio on Friday.
In a moment of levity, but one that the White House probably regrets as it defends Harris' importance to the team, the announcer introduced "Heather Kurtenbach" as Harris stepped to the microphone.
"In a moment," Harris said laughing. Kurtenbach, organizer and political director at the Iron Workers Local 86, who spoke the vice president about how the legislation would be a boon for American workers and unions.
House Speaker, Nancy Pelosi, speaking at the White House signing ceremony, said she hopes to pass the Build Back Better act "this week." The CBO said it would release the final cost analysis of the legislation on Friday.
Of course, we've seen deadlines come and go, so we'll take it with a very large grain of salt.
The White House signing ceremony for the bipartisan infrastructure bill is underway. Speaking before the president is Arizona senator Kyrsten Sinema, one of the Democratic co-negotiators of this bill and a holdout on the other piece of Biden's agenda, touted the bipartisanship that yielded the infrastructure bill.
"Our legislation represents the substantive policy changes that some have said are no longer possible in today's Senate. How many times have we heard that bipartisanship isn't possible anymore or that important policy can only happen on a party line," Sinema said. "Our legislation proves the opposite."
It was a popular theme.
"This is what can happen when Republicans and Democrats decide we're going to work together to get something done," senator Rob Portman, the retiring Ohio Republican and co-negotiator.
We can expect Biden to hit the same notes when he speaks in a moment. Bringing the country together was a major theme of his campaign. He was often mocked by more progressive and younger activists in the party for his belief that bipartisanship was still possible in the post-Trump era of zero-sum politics and partisan tribalism. And though investing in roads, bridges, ports and waterways was long considered the last realm of common ground between the parties, the issue nevertheless eluded past presidents and Congresses.
But this achievement hardly foreshadows a new golden era of bipartisanship. Republicans who voted for the measure are now facing intense backlash from conservatives who view their vote as a betrayal to Trump, who repeatedly promised to pass an infrastructure bill but never seriously tried. Meanwhile, Democrats are pushing ahead with an expansive domestic policy bill over unanimous Republican opposition.
Since Leahy announced his retirement, there has been a lot of speculation about who might run to replace him in the Senate. Democratic congressman Peter Welch, of Vermont, is seen as a likely contender.
Welch, who is at the infrastructure bill signing ceremony at the White House on Monday, was asked about his plans and definitely did not say no.
The state's Republican governor Phil Scott has repeatedly ruled out running for the seat and did so again this morning, via a spokesman. Nevertheless, Leahy's retirement opens the door to the possibility that a Republican could pick up the seat, especially if the forecast remains dour for Democrats. Such a defeat would likely doom the Democratic majority in the evenly divided Senate.
Bannon was released without bail after he "self-surrendered" to the FBI, after being charged with two counts of contempt of Congress for his refusal to comply with subpoenas issued by the House committee investigating the 6 January invasion of the US capitol.
According to Hugo Lowell, Bannon will be arraigned on Thursday, 18 November, and not today as was expected. His case will be heard by US district judge Carl Nichols, an appointee of Donald Trump.
Bannon will not be detained pre-trial. As part of the agreement, he agreed to surrender his passport, submit to pretrial supervision and inform the court of any domestic US travel.
Bannon was defiant as he left court, having claimed that he and his allies were "taking down the Biden regime."
"This is going to be the misdemeanor from hell for Merrick Garland, Nancy Pelosi and Joe Biden," he said. "We're going to go on the offense on this. Stand by."