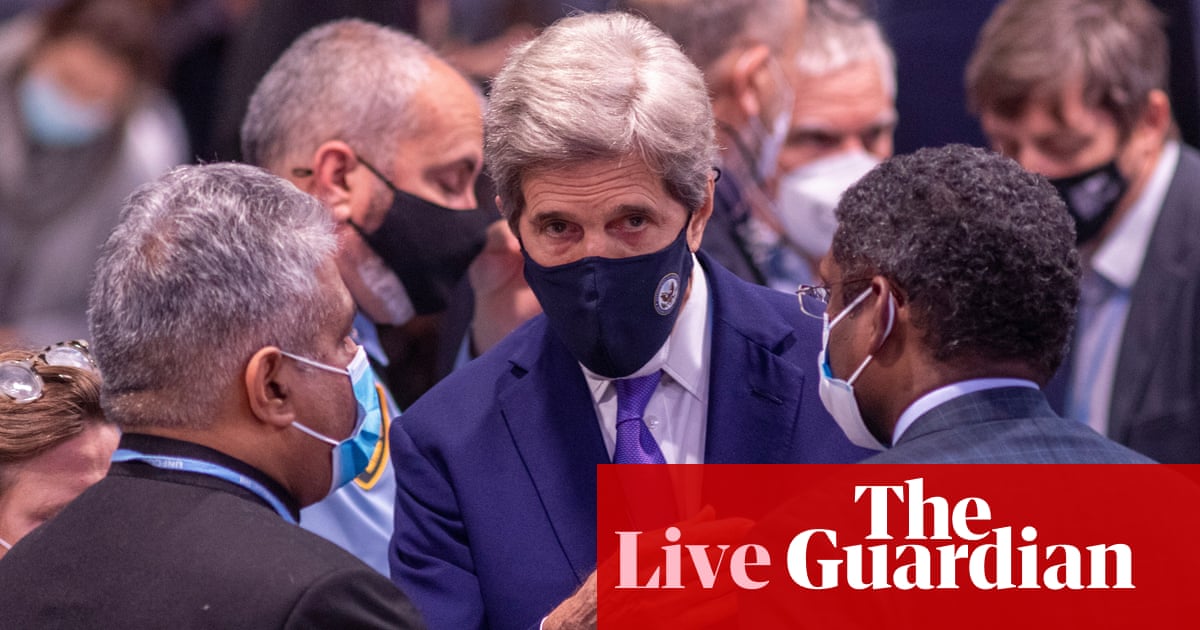 My colleague Will Hutton at the Observer has written on the complex dance between capitalism and the climate crisis that unfolded at Cop26.
The environmental genie is out of the bottle. In Europe, greens are in government or coalition government in Austria, Belgium, Finland, Ireland, Sweden and Scotland – and about to be in Germany. Politicians are in the market for votes; Boris Johnson, who is closely tuned to voters' preferences even if many in his party are not, has been quick to mount a volte face over the climate crisis.

The consequences of the final Cop26 outcome are not clear, but more important is that it has happened at all. The momentum to "keep 1.5 alive" is obvious and that is as vital as the detail. What matters is how national governments and international agencies find ways of directing a capitalism that knows, given what its markets want, that it has to move in this direction.
Read the full piece here:
Evelyne Huytebroeck, co-chair of the European Green party, has said:
"Climate justice remains vastly forgotten. The high expectations from developing countries for loss and damages to be fully recognised were not matched in the final agreement. But the fight is not over. As Greens, we will herald this fight for climate justice at the European level but also through our Greens in government across Europe."
The International Union for the Conservation of Nature has commented on the outcome of the talks:
IUCN welcomes the progress made in Glasgow, including with respect to nature. However, it stresses that this headway will not be sufficient to "keep 1.5C alive", and calls for significant and meaningful step change at Cop27. We are running out of time and options.

For the first time, world leaders have clearly recognised the interlinked relationship between the global biodiversity and climate crises and the critical role that nature plays in both adaption and mitigation simultaneously. This is an important and welcome move forward.

However, to keep global temperature rise within 1.5C, we need to move from recognition to establishing concrete pathways for delivery. In this respect, while the Cop decisions are an important step forward, the absence of a clear reference to nature-based solutions is a missed opportunity that will need to be revisited as soon as possible.
Chris Stark, head of the the government's statutory climate advisers, the Committee on Climate Change, says the body will publish a stocktake after the Cop26 summit.
Ugandan youth climate activist Vanessa Nakate has tweeted about her disappointment about the lack of a "loss and damage facility" – essentially, compensation for climate damage – in the Glasgow pact.
She also praises Nicola Sturgeon of Scotland, who became the first country to pledge to a loss and damage fund with a $2m pledge.
Asked about the $100bn climate finance promise that has been broken by rich countries, Sharma says he understands vulnerable countries' sense of frustration.
"We know with confidence that that $100bn will come in 2023," he says. He adds that adaptation finance will be doubled by 2025 as well (though does not mention that it is pledged to be doubled from 2019 levels, not current levels).
Sharma says nations like China and India will have to justify themselves to developing nations.
"This deal does keep 1.5C in reach," insists Sharma, who says he has received many messages of thanks from around the world for the deal.
But he says the commitments that have been made must be followed through on, he says.
Alok Sharma, the Cop26 president, is now on Trevor Phillips. Phillips asks him about the Queen not attending a memorial service at the Cenotaph in London due to ill health and Sharma says he wishes the Queen the best.
Asked about his emotional reaction at the end of the Cop26 summit, Sharma says
"What we wanted to achieve at Glasgow was to keep within reach the goal of … 1.5C, and we delivered on that. We also closed off all the outstanding elements of the Paris rulebook."
"On the issue of coal, I should point out that for the very first time in any of these conferences the word coal is in the text.
"Of course I would have preferred the words 'phase out' rather than 'phase down'," he says. "You heard that disappointment on the floor."
My colleague Fiona Harvey has looked at the UK's hosting of the Cop26 conference and the behind-the-scenes choreography that led to the deal we ended up with.
The choreography was a key part of the UK's plan: the Cop talks are dominated by backroom technical discussions over the fine details of the Paris agreement. Slow-moving and impenetrable to outsiders, these can give the (correct) impression of stalling and delay in the face of a global crisis.

So to gain a sense of momentum, the UK plan was to launch the summit with world leaders, then keep up a steady stream of "wins" that would cover aspects of the climate crisis that lie outside the scope of the annual UN talks but are no less vital to its resolution.
Read the full piece here:
Helm says a 2.4C hotter world is going to be bad for most countries, and worse for some than others. But he says it's not clear exactly how the world will respond to that level of warming.
"We don't no precisely, but there are no suggestions that it's going to be a good thing."
Helm points out that even if the costs of acting now are cheaper than acting later, they are still a significant cost.
"29 years away is not really long enough for much technical change," he says. "We've got to do it with what we've got."
Next up is the economist Dieter Helm, who is very pessimistic about the chances of keeping within 1.5C of global heating.
"It's dead," he says.
Helm says the future of climate will be determined in China, India and sub-Saharan Africa, and laments that "the key players are not at the table".
Helm says summits like Cop26 are not going to fix things. Helm says solving trade and carbon border pricing are the way to make a difference.
Phillips asks Helm to estimate what temperature we are heading for if the Cop26 pledges are fulfilled. Helm refers to studies published during the conference which forecast between 1.8C in a most optimistic scenario and 2.4C of heating in a realistic scenario. Helm says these outcomes would be "really, really bad".
Phillips has been laying various traps for Miliband, but Miliband declines to walk into them. Phillips suggests climate action is not popular with poorer voters, although recent polling has found that is not the case, and Miliband repeats that climate action now is cheaper than not taking action in the long run.
Asked about the upcoming Cumbria coal mine and Cambo oil field going ahead, Miliband says they should be cancelled.
"It looks like total hypocrisy," says Miliband. "We need to show we're not looking both ways as a country.""
Miliband says that Labour have pledged to spend £28bn a year in tackling the climate crisis if they come to power. He says the government should be helping subsidise green boilers and electric vehicles.
Miliband says borrowing now to spend on climate policies is the right thing to do, and cites a study that found not spending on climate would end up costing twice a much in the long run.
"The biggest debt we can store up for future generations is not tackling this crisis," says Miliband.
Miliband says more needs to be done to put pressure on big emitters like China, India and Australia. He criticises the government for dropping climate commitments from a trade deal they are striking with Australia.
"Climate policy cant sit on the side of other policies … we should be rewriting that trade deal," he says, adding that if every country's policies were in line with Australia's, the world would be heading for 4C of warming
The shadow business secretary, Ed Miliband, is speaking on the Trevor Phillips show on Sky.
Miliband says the aim of keeping a heating target of 1.5C alive is "frankly, in intensive care."
He says the world is only 25% of the way to its goal of halving global emissions, and that all countries need to step up and deliver on the deal.
Asked about the additional responsibility of developed countries, Miliband brings up the pledge of $100bn a year of climate finance that was promised to poor countries at Copenhagen in 2009 and formally pledged in Paris in 2015.
"More than 10 years on, this has still not been delivered," Miliband points out.
He says the UK government's cuts to overseas aid undermined its negotiating position during the talks.
Welcome to the Guardian's coverage of reaction to the "Glasgow climate pact" that was struck on Saturday night at the Cop26 climate summit.
The deal was welcomed by many world leaders despite a last-minute intervention by India that saw the wording on "phasing out" coal weakened to "phasing down". US climate envoy John Kerry said the change was regrettable but that "if we hadn't done that, we wouldn't have had an agreement."
Environmental groups have been less kind – Amanda Mukwashi at Christian Aid accused rich countries of "kicking the can down the road", while Rachel Kennerley at Friends of the Earth dubbed the pact the "Glasgow get-out clause".
We'll bring you all the latest reactions and fallout to the deal here. You can email me at alan.evans@theguardian.com or find me on Twitter at @itsalanevans.