Cop26 failed in a bid to phase out coal, news that had its president Alok Sharma close to tears. But not everyone's disappointed – nationals senator Matt Canavan has declared it a great win for Australia's mining industry.
He told the Nine Network:
Given the fact that the agreement did not say that coal needs to be phased down or taken out, it is a big green light for us to build more coalmines.
There's a push on for governments to set a date to ban cigarettes sales through retailers (look out for freedom protesters adding this to their grab bag of complaints).
Experts say the public health initiatives are not enough and that "cigarettes do not meet modern consumer product safety standards", medical editor Melissa Davey writes:
More here from ABC chair Ita Buttrose on Liberal senator Andrew Bragg's plan for a senate inquiry into the ABC…
Taxpayers are paying at least $59m for major government advertising campaigns to run in the lead-up to the 2022 election.
The campaigns span the topics of cybercrime and online safety, the jobtrainer program, domestic violence, recruiting a carer workforce and, most controversially, climate change, as the government seeks to explain its road to Damascus conversion on the net zero by 2050 target.
Paul Karp has broken it all down for you here:
More on the ABC saga – the Greens have called it an "abuse of process". Senator Sarah Hanson-Young said the Greens would "move to stop it" when the Senate sits next week:
The Morrison government has attacked the ABC relentlessly for eight years now, this is just another one of their witch hunts.
ABC chair Ita Buttrose has doubled down on her attacks on a Senate inquiry into the broadcaster's complaints handling process. She has told ABC's Radio National the relationship with the federal government is "strained".
Liberal senator Andrew Bragg announced the inquiry despite an independent review already under way. At the weekend Buttrose accused the federal government of "political interference".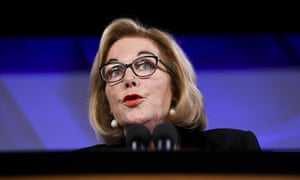 She said she spoke to communications minister Paul Fletcher on Friday and says because the Senate is a "law unto itself" not even the relevant minister can intervene.
She wants the inquiry terminated or at least paused until the existing inquiry is finished, saying:
Read the original story here:
Energy minister Angus Taylor says the federal government will make its "best efforts" to keep global warming to 1.5C. He told ABC's Radio National this morning that the government is "confident" it will meet its emissions targets …
… without phasing out coal. A change in Cop26 phrasing that was meant to ring the "death knell" for coal was downgraded from phasing it "out" to phasing it "down".
Under questioning from Fran Kelly, Taylor said Australia's coal exports "will be driven by customer demand", not government policy.
Good morning, everyone. Hope you all had a "do nothing" weekend and are looking forward to a "can do" Monday.
It's Tory Shepherd here, with one eye on the news and one eye on the doggo who is in the Bucket O Shame thanks to a grass seed in the paw.
Cop26 is over but there are plenty of lingering questions for the federal government. Adam Morton has put "Will Australia increase its 2030 emissions target?" at the top of his list.
(At the weekend Australia was named the conference's "colossal fossil" for its contributions.)
And the community of Forbes in central west New South Wales is on high alert after heavy rain. Authorities are set to decide whether to evacuate residents today and are forecasting major flooding. More on that to come …
On Covid, 70% of Queenslanders 16 and older are now double dosed, so some restrictions will ease in the sunshine state. The deadline for Victorian aged care staff to be fully vaccinated is today, and the NSW government says elective surgery will return to full capacity today.
Grab another coffee and stick with us as the day unfolds.