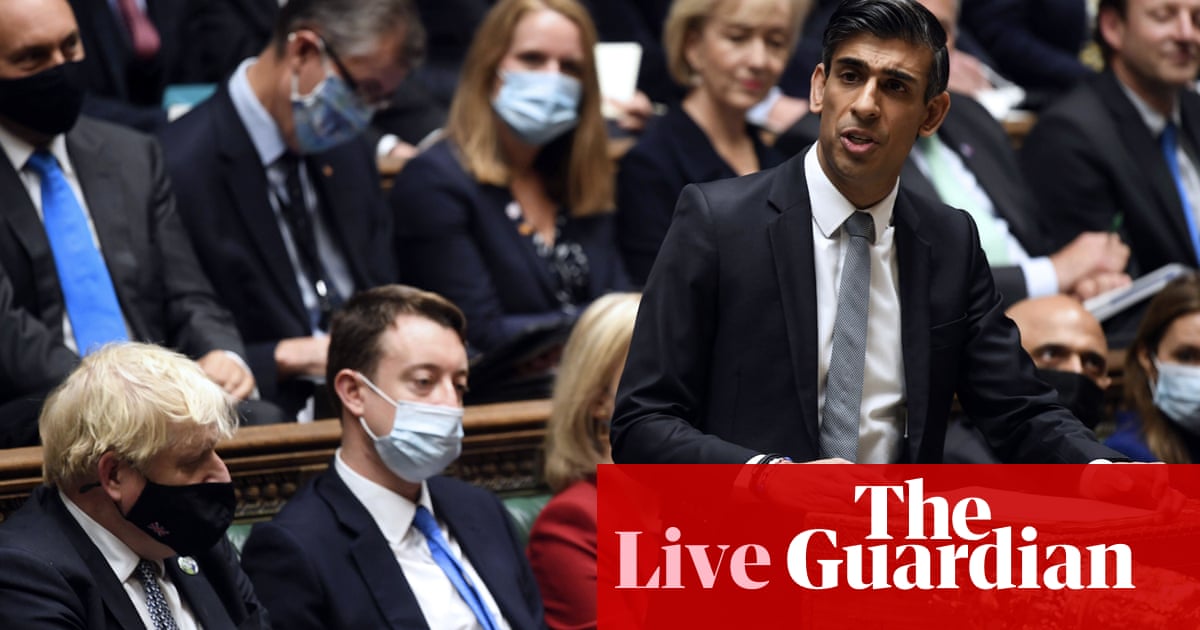 Sunak has declined to commit to cutting taxes before the next general election. Asked on Sky News whether he would slash taxes before the next Westminster polling day, which is expected to be held by 2024, the chancellor said:
We started cutting taxes yesterday, our priority being those on the lowest incomes.

There is a tax cut for two million families (the reduction of the Universal Credit taper rate) and it is not going to come in as normal next April – it is going to come in, in a few weeks time so we can get help to people right now.

But, as I said very clearly yesterday, my ambition is to lower taxes for people, that is what I would like to do as chancellor.

We had to take some corrective action as a result of the crisis and the response we took to it, but hopefully that now is done and, as we demonstrated yesterday, our priority is to make sure that work pays, that we reward people's efforts and I'm delighted we could make a start on that yesterday.
Pressed on whether there would be income tax cuts before the next election, the chancellor replied:
No, no – let's talk about this budget, rather than all the other ones.
Rishi Sunak's budget has the country set for a flat recovery for living standards amid fears the average household could see their tax rise by thousands of pounds during Boris Johnson's premiership, a thinktank has warned.
The Office for Budget Responsibility (OBR) has said the budget would leave the overall tax burden at its highest since the final period of Clement Attlee's post-war Labour administration 70 years ago.
The Resolution Foundation said this burden combined with higher growth, inflation and public spending than previously expected prompted it to warn "that Britain could be set for a flat recovery for household living standards".
The foundation's analysis found the chancellor's plans will mean that, by 2026-27, tax as a share of the economy will be at its highest level since 1950, amounting to a £3,000 increase per household since Boris Johnson became prime minister.
The weakest decade of pay growth since the 1930s means real wages in the UK are set to fall again in 2022, with the foundation writing:
Real wages are on course to grow by just 2.4% from May 2008 to May 2024 – a far cry from the 36% real wage growth experienced between May 1992 and May 2008.
Burnley and Bury, two distinct towns separated by a 20-mile drive, were interchangeable to Sunak this morning as he tried to talk up the government's so-called levelling-up agenda. The chancellor was conducting broadcast interviews in the latter but he seemed to think he was in the former.
The BBC Breakfast presenter Ben Thompson told Sunak he was from Burnley, which is in Lancashire. Sunak said:
It is not just about being in the north [of England], by the way. We're here in Burnley but, if you are growing up in a village in the south-west or even on the south coast, people want to feel opportunity is there for them, wherever they happen to be.

I put it down to two things: One is having pride in the place you call home and a lot of what we announced yesterday, the levelling-up fund – bids like Burnley market, world famous Burnley market, benefiting from £20m of investment.

That's going to create jobs. It is about improving the every day infrastructure of our communities.
But he defended his decision not to cut VAT on home energy bills to counter rising energy prices. Asked on BBC Breakfast why he did not make such a move, the chancellor said:
Because, as many independent experts and thinktanks have pointed out, it is not a particularly well-targeted measure because people living in very large homes with large energy bills would disproportionately benefit from that.

Actually, where we want to target support is on those who are a bit more vulnerable.

That is why just over a month ago, or around about then, we announced half-a-billion pounds in something called the household support fund, and that will provide £150 for about 3 million of our most vulnerable households, to help them with some of those higher bills through the winter period.

I think that is a more targeted approach to get help to those who really need it, not a very large VAT cut, the bulk of the benefit of which would end up going to people with large homes with big bills who probably don't need the help.
Here's a little more detail on Sunak's comments this morning. During an appearance on BBC Radio 4's Today programme, he was asked about the impact of inflation on price increases. He said:
I addressed inflation yesterday in the budget speech and I know people will have concerns about that and I wanted to provide a bit of an explanation and some reassurance on what was going on.

It is largely down to two global forces: one is the impact of rapidly reopening economies putting pressure on global supply chains and the other factor is, of course, energy prices.

I wish I did but I don't have a magic wand that can make those global challenges disappear; they are going to be with us for a little while.

But where the government can make a difference, we are – whether it is the tax cut, whether it is freezing fuel duty, whether it is helping people with energy bills through the winter, where we have put support in place – we are doing what we can.
The chancellor has insisted he does not have a "magic wand" to make cost of living pressures disappear, while also insisting he was right not to use some of the tools at his disposal to help struggling households.
Rishi Sunak has sought to play up the role of global problems in driving inflation – not least of energy prices – while insisting he was right not not cut VAT on home energy bills because it would disproportionately benefit those in large homes. He's in Burnley or Bury – depending on whether you believe Rishi Sunak or Rishi Sunak – doing the morning media round following his budget yesterday.
In Westminster, the Speaker of the Commons Lindsay Hoyle has granted an urgent question in the Commons on the fishing dispute in which a British trawler has been detained by the French. That will be asked by the SNP's environment, food and rural affairs spokeswoman Deidre Brock and is expected from 10.30am. There will also be business questions and a continuation of the budget debate.