Also doing the media round in the UK this morning is Conservative MP Greg Clark, who chairs the Commons science and technology committee who compiled and published the report dominating the headlines. [You can read it in full here, by the way].
He told the BBC this morning that the UK wasn't the only country to make mistakes. PA Media has this quote from his appearance:
[Going into lockdown later was a] consensus decision – it wasn't that the government went against the scientific advice, or that there was some great row about it. Everyone agreed that this was the right thing to do. We now know that it wasn't – that is using the benefit of hindsight, but it's important to do so.

So what were the reasons for that? Well, one of the mistakes that was made was that we thought – there was a widespread assumption – that people wouldn't obey lockdown measures for a very long period of time, so you had to delay imposing them until almost the last possible moment, so that they could have the longest effect.

What we discovered in practice was that people were perfectly prepared to follow instructions to stay at home because they realised the importance of it, so that was an error that we made.

We also didn't have enough testing capacity at the outset, we had to stop testing in the community, and if you're not testing that means you don't have information as to how quickly the virus is spreading, who is getting it, how ill they're becoming. And so that means that we were operating in the dark.
I'm not entirely convinced everybody's recall will be that there was a consensus and "everyone agreed that this was the right thing to do". It might be worth refreshing your memory with this timeline of how and when the UK went into lockdown: Covid timeline – the weeks leading up to first UK lockdown
It is also worth noting that a one point the UK government began claiming that the UK had, in fact, entered lockdown on 16 March when Matt Hancock said in parliament that "all unnecessary social contact should cease", and not 23 March when the prime minister said "people 'must' stay at home and certain businesses must close".
You can re-litigate that row from last year here: Full Fact – When did lockdown begin in the UK?
The UK has lost its place as Europe's vaccine leader in recent months as countries such as France, Italy and Spain have leap-frogged it in terms of the share of people who are fully vaccinated.
Throughout September, the UK was vaccinating an average of 1,461 people per million a day, much lower than the 3,925 being jabbed in Italy, 3,694 in France, 3,280 in Spain and 2,305 in Germany.
The UK's rate of vaccination was the fastest in Europe until the end of April, according to data from Our World in Data. But the subsequent slow down in the UK's vaccine rollout meant it lost its place as Europe's leader in vaccination coverage in July.
Ten months after the first coronavirus jab in the UK was administered to 90-year-old Margaret Keenan at University hospital Coventry, the UK's vaccine coverage has stalled in recent weeks and stands at about 86% of those who are eligible for a jab.
Figures suggest this is largely due to slow uptake among younger people.
Read more of Niamh McIntyre and Ashley Kirk's explainer here: Why has the UK's vaccination rate slowed down?
I've been a little bit preoccupied with news out of the UK so far this morning in the wake of a damning report into the government's handling of the initial stages of the Covid crisis. Here's some developments in Japan though, via Reuters, where the country faces an election on 31 October.
Ju-min Park writes for the news agency that Japan's ruling Liberal Democratic party (LDP) unveiled its manifesto today with a focus on ending the coronavirus pandemic. The party's leader, prime minister Fumio Kishida, is just a week into the job.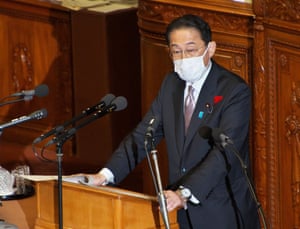 "We would like to show solid measures and appeal to the people, first, how to confront the coronavirus … and to bring peace of mind and hope to the people," LDP policy chief Sanae Takaichi told a news conference.
The coronavirus situation in Japan has improved, with the smallest number of new cases recorded on Monday since the middle of last year.
But Kishida told parliament earlier today that the government would continue to plan for a worst-case coronavirus scenario.
That last block mentioned that Prof Sir Andrew Pollard had written for us. As well as a message for governments, he had a message for individuals too: Individuals cannot solve vaccine inequality. If you're offered a booster, take it
The "to boost or not to boost" moral dilemma is not in the purview of individual citizens who ponder whether to roll up their sleeve when offered a booster by a vaccine clinic this week. A dose that is in the vaccine clinic fridge (or freezer) cannot be redirected to someone else in another country, because the regulatory hurdles and shelf-life simply make redistribution of this dose not practical. Redistribution has to happen prior to the release of vaccine doses to the national health system. A protest against vaccination at individual level will be misdirected and risks wasting these precious doses. If you are asked to roll up your sleeve, then you should do so.
Read more here: Professor Sir Andrew Pollard – Individuals cannot solve vaccine inequality. If you're offered a booster, take it
Hundreds of thousands of people worldwide will die needlessly from Covid this autumn as wealthy nations prioritise booster shots for their own "highly protected" people instead of sharing doses, the head of the Oxford vaccine group has warned.
Prof Sir Andrew Pollard said that while it was "possible" a third dose might help protect some people, the "potential benefit" for the vast majority was "small" because most double jabbed people were already "highly protected" against Covid-19.
Writing for the Guardian, Pollard said the "failure" of wealthier nations to share more vaccines this summer – coupled with their decisions to embark on large-scale booster programmes – meant large numbers of avoidable deaths were now inevitable.
Supply of vaccines to poorer countries is improving and likely to "get better", he said. "But for many hundreds of thousands of people, it won't be soon enough."
Read more of our health editor Andrew Gregory's report here: Rich nations warned hogging Covid jabs will lead to huge global death toll
Here's just a couple more key lines from that Sky News interview with UK minister for the cabinet Steve Barclay. On whether the nation locked down quickly enough he said:
At the time the concern was if we locked down too soon, there wouldn't be a willingness to lock down for a long period of time. Now we actually know now that actually there was a willingness of the British public to lock down for far longer than we envisaged.
On the claim that politicians did not challenge scientists enough on their advice:
There was was rigorous debate within government with science, but of course it was unprecedented, so it was a developing picture for the scientists themselves.
On sending care home residents back from hospital while they had Covid:
The principal concern at the time was around this surge of patients in the NHS, the concern around delayed discharge, and how that would lock up the capacity of the NHS. The understanding around asymptomatic infection was very different. We didn't have the testing regime that we now have that had to be built from a standing start.
Minister for the Cabinet Office Steve Barclay has persistently refused to apologise for the government's early handling of the Covid crisis during his appearance on Sky News, and has also said that that he's gone on air this morning without having read the report that he is being questioned about.
Presenter Kay Burley has made the point that "you don't need to go through the whole hefty report in order to know that it says 20,000 people died needlessly."
Barclay's line pretty much boils down to repeating variations on this point:
We followed the scientific advice. We protected the NHS. We took the decisions based on the evidence before us. But of course we've always said with something as unprecedented as the pandemic there will be lessons to learn. We're keen to learn them. That's why we've committed to an inquiry, and that will be the opportunity to look at what could be done differently, and what lessons we take into the future.
While minister Steve Barclay is being pressed in the UK on Sky News – without much success – for an apology over the government's handling of Covid by Kay Burley, here's how Politico's morning newsletter summarised the findings of the report:
Reading the report is pretty sobering, even if you've been following the evidence sessions to the inquiry. A few things that stand out: Hesitating over full lockdown "reflected a fatalism about the spread of Covid that should have been robustly challenged at the time." … The UK made a "serious early error" in not considering a rigorous targeted public health approach to stop the spread of the virus as adopted by many East and South East Asian countries, and preparations were based too heavily on a flu-like illness, rather than zoonotic or novel diseases …

… The machinery of government was ill-equipped to respond, with long-term planning sacrificed to short-term demands … The NHS mobilized "quickly and strongly," but compared to other health systems it often "runs hot" with little spare capacity to cope with unexpected demand … The NHS Test and Trace system was singled out for its "slow, uncertain and chaotic" performance last year … Existing social, economic and health inequalities were exacerbated … Mistakes in social care, including lack of scientific advice early on, a failure to prioritize PPE for its staff and rapid discharge of patients from hospitals back into homes without proper testing led to "many thousands of deaths which could have been avoided."
Good morning, it is Martin Belam here in London taking over from Samantha Lock. It looks like Minister for the Cabinet Office Steve Barclay has drawn the short straw of doing the UK's media round in the wake of that damning report describing the country's Covid response as "one of UK's worst ever public health failures". I'll have the key quotes from that shortly. Here's our lead story:
Amazon says it will allow those in "corporate roles" to continue working remotely indefinitely as long as they can commute to the office "within a day's notice" when necessary.
The new policy was announced by CEO Andy Jassy in a blog post on Tuesday.
The company previously stipulated that most employees would need to be in the office at least three days a week after offices reopen in January.
Most of Amazon's more than 1 million employees worldwide cannot work remotely because they are in the company's fulfillment and transportation division.
New Zealand's pivot from Covid elimination 'surprised' top health experts
A number of epidemiologists and public health experts who have been central to helping chart and communicate New Zealand's Covid response thus far say they were taken by surprise by its new direction, and not consulted by the government as it pivoted away from elimination and outlined a controversial set of "steps" out of level 3 restrictions last week.
"We were obviously surprised on Monday last week when the government seemed to say that we were moving away from elimination," said prof Michael Baker, one of the country's most prominent pandemic communicators and a member of the ministry's Covid-19 Technical Advisory group. "A decision of that size – changing your major strategy – you'd think you would consult with [the] quite small batch of scientists and other advisers who work very hard to support the government … explaining things to the public."
"That was very unusual. I think the government's done a great job generally with consultation and getting us all to at least understand the rationale for change."
Read the full story here:
Texas governor orders ban on vaccine mandates
Texas Governor Greg Abbott issued an executive order on Monday to prohibit any entity, including private business, from enforcing a Covid-19 vaccine mandate on workers and called on state lawmakers to pass a similar ban into law.
The move comes as the Biden administration is set to issue rules requiring employers with more than 100 workers to be vaccinated or test weekly for the coronavirus.
Several major companies, including Texas-based American Airlines and Southwest Airlines, have said they would abide by the federal mandate.
"No entity in Texas can compel receipt of a Covid-19 vaccine by any individual, including an employee or a consumer, who objects to such vaccination for any reason of personal conscience, based on a religious belief, or for medical reasons, including prior recovery from Covid-19," Abbott wrote in his order.
Read the full story here:
Summary
Hello and welcome to our rolling coronavirus news coverage. I'm Samantha Lock and I'll be giving you a rundown of the latest updates as they happen.
A landmark inquiry has found Britain's early handling of the coronavirus pandemic to be one of the worst public health failures in UK history.
The 151-page report, 'Coronavirus: lessons learned to date', led by two former Conservative ministers, found authorities took a "fatalistic" approach that exacerbated the nation's death toll.
Despite being one of the first countries to develop a test for Covid in January 2020, the UK "squandered" its lead and "converted it into one of permanent crisis", the report said.
In more positive news for travellers, Thailand is set to reopen its borders to sun-seeking vaccinated tourists from November.
Mandatory quarantine requirements will be dropped for visitors from the UK and US and alcohol will be allowed to be served at restaurants from 1 December.
Tourism made up almost 20% of the nation's income prior to the pandemic, attracting nearly 40 million visitors a year. However, Covid-related travel restrictions have left the economy battered, contributing to its worst performance in more than 20 years.
French study of over 22m people finds vaccines reduces the risk of dying or being hospitalised in people over the age of 50 with Covid-19 by 90%. The research published on Monday also found that vaccines appear to protect against the worst effects of the most prevalent virus strain, the Delta variant.
The UK reported a further 40,224 Covid cases on Monday, according to official data. Meanwhile, a further 28 deaths were reported.
Covid pandemic pushes poor countries to record debt levels, the World Bank says. David Malpass, the bank's president warned the virus had widened the gap between rich and poor nations, setting back progress by years and, in the case of some countries, by a decade. Figures show the debt burden of more than 70 low-income nations had increased by a record 12% to $860bn (£630bn) in 2020.
The World Health Organization (WHO) has recommended immunocompromised people be given an additional dose of the Covid vaccine, due to their higher risk of breakthrough infections after standard immunisation.
From today people in Wales must show an NHS Covid Pass or demonstrate their vaccination status to enter nightclubs and attend large events in the country.
People in Germany will now need to pay for lateral flow coronavirus tests out of their own pockets, as the government is trying to nudge vaccine-hesitant citizens into getting the jab.
Russia's president, Vladimir Putin, seen coughing during a televised government meeting, reassured officials on Monday that he was fine and said he was being tested for Covid virtually every day.
Meanwhile, Russia's daily Covid numbers remain close to their highest figures with 957 coronavirus-related deaths and 29,409 new cases in the past 24 hours.
Germany ends free lateral flow tests as part of vaccination drive. From Monday, people in Germany will need to pay for lateral flow coronavirus tests out of their own pockets, as the government is trying to nudge vaccine-hesitant citizens into getting the jab. The government says it can no longer justify paying for free tests out of the public purse since all residents over the age of 12 can now get the jab if they want to.
Rome's violent protests against Covid-19 vaccine prompts calls to abolish Italian neofascist movements.
Wales will enforce showing an NHS Covid Pass or vaccination status for those who wish to enter nightclubs and attend large events in the country. It means all over-18s need one to enter nightclubs, indoor non-seated events for more than 500 people, such as concerts or conventions, outdoor non-seated events for more than 4,000 people and any setting or event with more than 10,000 people in attendance. People will also be able to show they have had a negative lateral flow test result within the last 48 hours.
Australia still lags behind many other countries on vaccine rollout – but it's catching up fast. After a slow start and sluggish vaccine rollout, 68.2% of Australians have had at least one dose of a Covid-19 vaccine as of 8 October. This is ahead of Germany at 67.9%, the United States at 64.39%, and the European Union at 67.8%.
Slower vaccination rates in eastern Europe are leading to a dramatic surge in cases in comparison to higher vaccination rates and lower Covid infection and death rates in western Europe, figures from Our World In Data suggests. The exception is in the UK where case numbers are surging.
Ryanair bans Covid refund passengers from boarding new flights. The budget airline has been accused of barring passengers who pursued chargebacks during the pandemic from taking new flights this year – unless they return their refunds. An investigation by MoneySavingExpert (MSE) found that holidaymakers who sought refunds from their credit card provider faced last-minute demands of up to £600 if they want to board a Ryanair plane.
Relatives of coronavirus victims in Italy are pushing for a full public inquiry into the government's handling of the pandemic as documents from the European Centre for Disease Prevention and Control (ECDC) show the first Covid-19 cases registered in 16 European countries originated from Italy.